Listen to
Mike's Morning Mix
6 AM - 10 AM

The Morning Mix with Mike Clayton
The Morning Mix with Mike Clayton is broadcast from 6 a.m.-10 a.m. Monday through Friday on 92.7 FM. Mike Clayton brings his unique perspective to a variety of topics each day. Enjoy news, weather and entertainment segments every morning. There are local guests of interest and great contests. Listeners win free music,concert tickets,movie tickets, dining and more. Mike has an upbeat positive personality that everyone can relate to. Mike Clayton has been on the morning show for 25 years. Listen each weekday and be a part of the newest and best morning show to come along in a while. Check him out on Twitter and Instagram @mix927radio. Facebook @mix9

Shannon Summers
Weekdays from 10 AM - 2 PM

Background
Shannon is a Midwest girl who has traveled all over the country and to some other parts of the world, and is happy to be here in Lake of the Ozarks.. She loves dogs and is a proud mama to two rescue pups. You can also find her gardening, reading, and she's happiest when she's jumping into the closest body of water. She sings along with the radio in the car, and will happily smile at you if you catch her doing it. She's still trying to figure out what she wants to be when she grows up. If she figures it out, we'll let you know.

Jeff Karr (like it or not)
Weekdays from 2 PM - 6 PM

Background
What can we say about Jeff that his friends haven't already said. As soon as he finds anyone who will admit to being his friend we will let you know what they say! After 25 years in radio you would think he would be better at his job. He does have one trait we all appreciate here at Mix 92.7.....he hasn't borrowed any money in a while. We can sum up the Jeff Karr Show in 3 words. What's that smell.

Charlie B
6 PM - Midnight

Background
Charlee B here! I'm a crazy, busy mom. I''m real & tell it like it is. I love being outside (Dirt Bikes! MUD!), listening to music (I'm a bit of a concert junkie), singing karaoke (Oh Yeah! I said it), experiencing life & meeting new people! My favorite movie is Princess Bride (Inconceivable). Enough about me, tell me about you... facebook.com/charleebradio!

Kendall Taylor
Midnight - 6 AM

Background
A loud laugher that loves cheese, Snapchat filters and my toy poodle, Poe. When I'm not singing in the radio station studio, I'm drinking Moscow Mules, fiddling around in the kitchen, rooting for the Detroit Lions and pretending to be good at golf. Live Laugh Love is my favorite motto and I feel lucky to have a job where I get to play at work. Thanks for listening!

Michael Knight

Background
Michael has lived in Central Missouri for over 20 years. He has been with Benne Media since 1996. When he is not working, he enjoys spending time with his wife and three children. Michael is a major sports fan. So, if he is not at the radio station, you can more than likely find him at an Eldon Mustangs sporting event or at some type of youth sporting event... as he has been coaching youth sports for 15 years!! He LOVES THE UNIVERSITY OF NEBRASKA, the St Louis Cardinals, the UFC, and NCAA Wrestling. He enjoys keeping everyone informed on what is happening around the lake area and truly believes that there is no better place to live and raise a family other than in Central Missouri.

Mark Adams

Background
Mark Adams has been with Mix 92.7 and Cool 102.7 for many years. In addition to radio Mark loves music and has been a drummer in several bands in KC, in upper management for several record store chains in Kansas City, including PennyLane and Streetside. He moved to the Lake in 2001 with his significant other, Sally and opened Mustang Sally's Bar. He joined Mix 92.7 in 2002.. he also devotes his time to several websites selling vintage vinyl record albums.

Chad Michaels

Background
I am Chad Michaels. Born in Missouri, raised in Columbus, Ohio and enjoy football (The Ohio State University Buckeyes & Mizzou), hockey, and Music. I moved to Lake of the Ozarks in 2000 where I started in radio. I work behind the scenes in production for School of the Osage Sports, and On-Air Personality for both Mix 92.7 and Cool 102.7. I love music and the messages songs bring and look forward to playing it for you to get through the day.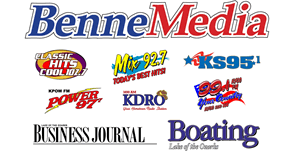 UPCOMING CONCERTS
St. Louis