Click to Enlarge
THE BIG SHOW
The Big Show with Mike Clayton and Jeff Karr is broadcast from 6 a.m.-10 a.m. Monday through Friday on 92.7 FM. Mike Clayton and Jeff Karr bring their unique perspective to a variety of topics each day. Enjoy news, weather and entertainment segments every morning. There are local guests of interest and great contests. Listeners win free stuff and Mike& Jeff  have an upbeat positive and sometimes pessimistic attitude that everyone can relate to. Mike Clayton and Jeff Karr previously worked together on the morning show for 8 years and both have 6 decades or radio experience between them. Reunited and it feels soooo good. Listen each weekday and be a part of the newest and best morning show to come along since the last great morning show that you may have heard elsewhere. 

SANDRA ANDES
Weekdays from 10 AM - 2 PM

Background
Sandra is a Show-Me-State native who loves the spotlight due to a deep-seated middle child complex. The Northwest Missouri State University communications grad has been recognized for her work in broadcasting and journalism throughout the Midwest. You may recognize Sandra as the giant disembodied head from glamour photography ads or the frustrated would-be student who furiously attempted to pull open a "push" door in a college course commercial. She strives to earn a best dog mom coffee mug and win the hearts of lake lovers everywhere.

CHUCK D
Weekdays from 2 PM - 7 PM

Background
Hey there, I'm Chuck D! I was born in the hills and hollers of West Virginia, but I've managed to travel all over this great nation of ours (in fact, of all 50 states, there are only two that I have yet to visit-can you guess which two?). I LOVE movies and music (naturally) and I spend a great deal of time fawning over my lovely wife and two sons. Now, if I could just get a few minutes alone in the bathroom from time to time, life would be perfect!

HAYDEN GREEN
2 PM - Midnight

Background
Hayden here, born and raised to be on the radio. Somewhere along the way I lost my hair but gained a wife and two kids. They're great, but I'm also into dogs, bourbon, and 007. My hobbies include golf, fishing and SCUBA diving. I'm a music lover and pop culture aficionado with a magnetic personality. (Or so they tell me) That's the story. What you hear is what you get!

KENDALL TAYLOR
Midnight - 6 AM

Background
Hi, I'm Kendall. A loud laugher that loves cheese, Snap chat filters and my toy poodle, Poe. When I'm not singing in the radio station studio, I'm drinking Moscow Mules, fiddling around in the kitchen, rooting for the Detroit Lions and pretending to be good at golf. Live Laugh Love is my favorite motto and I feel lucky to have a job where I get to play at work. Thanks for listening!

CHAD MICHAELS

Background
I am Chad Michaels. Born in Missouri, raised in Columbus, Ohio and enjoy football (The Ohio State University Buckeyes & Mizzou), hockey, and Music. I moved to Lake of the Ozarks in 2000 where I started in radio. I work behind the scenes in production for School of the Osage Sports, and On-Air Personality for both Mix 92.7 and Cool 102.7. I love music and the messages songs bring and look forward to playing it for you to get through the day.

JUSTIN

Background
Justin has been involved in the entertainment industry since the late 1990's when he started working as a luthier and guitar tech, supporting local, Regional, and national touring musicians at major venues in Orlando, Florida and the Southeastern Region. Justin moved to the Lake Area in 2020 with his family. When not spending time with his two young children, you might find him road-tripping, with camera in-hand, or spinning records, and jamming on one of his musical instruments. His mission is to facilitate a positive atmosphere, inspire others, foster their creativity, and get the Led out!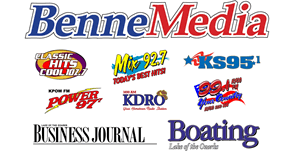 UPCOMING CONCERTS
St. Louis